GOTHENBURG AIRPORT (GOT) INFORMATION
Origin
Airline
Flight no.
Scheduled
Est./Actual
Status
No flight arrivals were found at Gothenburg Airport.
Destination
Airline
Flight no.
Scheduled
Est./Actual
Status
No flight departures were found at Gothenburg Airport.
Car Hire at Gothenburg Airport
UNBEATABLE VALUE CAR RENTAL
Free Amendments | Free Cancellations | No Card Fees




Gothenburg Airport - All Information on Gothenburg Airport (GOT) Gothenburg Airport
438 80 Landvetter, Sweden
phone +46 (0) 10 10 93 100
emailinfo@landvetterairport.se
emailhittegods.got@swedavia.se (Lost+Found)
call_end+46 (0)10 10 93 111 (fax)
Facts and History about Gothenburg Airport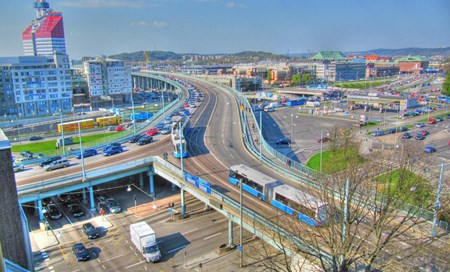 Gothenburg Landvetter Airport (Swedish: Göteborg Landvetter Airport) is an international airport in Sweden, serving the Gothenburg region. The airport is the second largest airport in Sweden, just after Stockholm-Arlanda Airport. Gothenburg Landvetter Airport is located 13 miles/20 km east-southeast of Gothenburg and 25 miles/40 km west of Boraas.
The official address of Gothenburg Airport is Göteborg Landvetter Airport, 438 80 Landvetter, Sweden. You can call the airport for any customer information at the telephone number: +46 10 109 31 00.
Gothenburg Landvetter Airport carries the international airport code of GOT (IATA), ESGG (ICAO) and GOT (FAA LID). The airport sits in an elevated location just 506 feet/154 meters above sea level at 57°39′36″ N and 012°17′28″ E.
The airport in Gothenburg served 6,807,631 passengers in 2018 (1,402,851 domestic passengers and 5,404,780 international passengers), which is an increase compared to 2017.
Gothenburg Landvetter Airport is assisting both charter flights from European cities and scheduled flight routes throughout the year. Most of the flights are seasonal flights to some top tourist destinations. The air traffic is peaking during the summer season, between May and October.
Arrivals and Departures at Gothenburg Airport
The biggest carrier at Gothenburg Landvetter Airport is Norwegian Air Shuttle that offers flight to and from Alicante, Barcelona, London–Gatwick, Madrid, Málaga, Palma de Mallorca, and Stockholm–Arlanda, plus additional seasonal destinations. Furthermore, Ryanair with flight routes to and from Alicante, Barcelona, Bergamo, Budapest, Dublin, Edinburgh, Gdańsk, Katowice, Kraków, London–Stansted, Málaga, Manchester, Prague, and Warsaw–Modlin. See all airlines at Gothenburg Airport.
Scandinavian Airlines, Thomas Cook Airlines Scandinavia, and TUIfly Nordic are also among some of the biggest carriers at Gothenburg Airport. In fact, the airport serves as a hub for all of these five airlines.
Gothenburg Airport operates one runway that is 10,826 ft./3,300 meters long. All passengers will find only one Main Terminal, which includes both domestic and international operations. All of the terminal buildings are connected to each other. The airport terminal in Gothenburg consists of two levels; the arrivals hall on the ground level, and the departures hall on the upper level. All passengers can locate the Domestic Terminal on the right and the International Terminal on the left inside the main building.
Gothenburg Landvetter Airport Ground Transportation
Transfer to and from Gothenburg Airport
When traveling to and from Gothenburg Airport, your transfer is made really easy. All passengers have a diverse range of transportation opportunities, including:
Parking at Gothenburg Airport
See options for parking services at Gothenburg Airport.
Practical Information about Gothenburg Landvetter Airport
WiFi connection:
All passengers can enjoy free WiFi connection at Gothenburg Landvetter Airport in the terminal area including both sides of security. There will also be WiFi connections throughout the restaurant and retail areas.
In order for you to get online, simply set the wireless network to; Airport-Guest WiFi. Then launch a web browser on your device where you will visit the welcome page. Please follow the instructions on the screen and you will be all ready to surf around the internet.
Passengers can surf at no charge for three hours on the airport's WiFi network.
If you experience any problems connecting or have any other questions about the network, please contact the Wi-Fi support service at GOT Airport on telephone number: +46 (0)10 109 04 50. They are open Monday – Sunday from 06:00 am to 10:00 pm.
Smoking:
Smoking is only allowed in designated areas outside the terminal at Gothenburg Airport.
Passengers can find one smoking room at the airport, across from Gates 19A/20A, right before the passport check, and right before baggage claim (if you're arriving).
Duty-Free shops:
At Gothenburg Airport, all passengers can find a broad assortment of duty-free products from some of the world's most famous brands. There will be everything from fragrances, skin-care products, cosmetics, sweets, tobacco, and alcohol.
You can find two Duty-Free stores at Gothenburg Landvetter Airport. One of them is open daily from 07.00 am to 8.00 pm. The other duty-free store that is located near gate 14 provides customized opening hours according to airline departure times.
If you would like to save some time while you are at the airport, you can pre-book your tax-free items. This can be done by using the Reserve & Collect service, which allows you to collect your items at the airport before departure.
You can contact the department at CustomerServiceSweden@se.dufry.com
Lost and Found:
Did anything get lost? If you need to report any lost items in the public areas or ground transportation areas at GOT Airport, you can get help from the Swedavia desk located in the Domestic Hall just before security. They are open Monday to Friday from 07:15 am to 15:15 pm. The service desk is closed on Saturdays and Sundays.
If you need to report any lost items from an airplane, please contact that specific airline.
Additional Services and Amenities at Gothenburg Airport
At Gothenburg Airport you will find the usual array of bars and restaurants, airport lounges and shops.
Things to do in Gothenburg
There are a number of activities to suit all ages and interests in the region - see a selection of tourist activities in Gothenburg, Sweden.
Gothenburg Landvetter Airport's website
If you need more information about Gothenburg Airport, then you can always visit Gothenburg Landvetter Airport's official website here: https://www.swedavia.com/landvetter/
Furthermore, if you have any questions or would like to get in contact with a member of the staff, you can contact the airport at telephone number: +46 10 109 31 00.
Local Information
Local voltage and plug type:
In Sweden, the main electricity supply is at 230 volts (50 Hz). Types C and F with 2 pins are the most frequently used electric plugs in the country.
What side of the road for driving?
In Sweden, you have to drive on the right side of the road.
Services at Gothenburg Airport
Useful Information about Gothenburg Airport