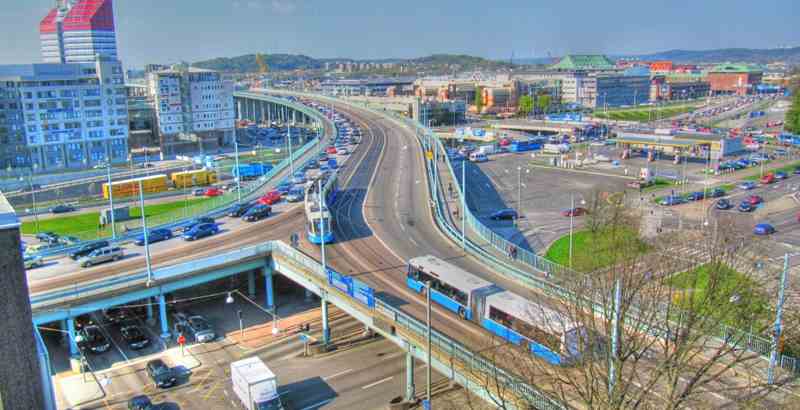 Gothenburg Tourist Attractions
All passengers that arrive at Gothenburg Airport can find their way to Gothenburg City Center within a 25 minutes' drive from the airport. In the heart of Gothenburg, you will find yourself surrounded by beautiful nature and a vibrant city atmosphere. At this location, you will have the opportunity to see and explore so many different sites and attractions in the city.
Below you will find inspiration to some unique, fun, memorable and interesting tours you can enjoy together with your travel companion(s).
Bus Sightseeing - Guided Tour of Gothenburg
If it is the first time that you are visiting Gothenburg in Sweden this Bus Sightseeing - Guided Tour of Gothenburg should be just right for you. Because on this bus tour, that will take approximately 50 minutes, you get to explore some of the main attractions of the city. Furthermore, the tour will provide you with a great orientation of the city, which you can use for your further stay in Gothenburg.
You will be taken around the city of Gothenburg in a comfortable double-decker bus, from where you get to discover this harbor city, which is Sweden's busiest port city. You will learn about the history of this cosmopolitan city and see its masterpiece Kungsportsavenyn.
On the tour, you will listen and learn from multilingual guides as you drive past some of the most famous sites of the city. You can enjoy a panoramic view of this amazing city, from the top deck of the bus.
This bus tour will take you to see the upscale stores of the Kungsportsavenyn, vintage trams, and the vast fish market of the Feskekôrka, that is set within a building that resembles a Gothic church.
You will also hear about current events and the best places to go shopping in the city center. Finally, you will get to explore the old Haga district, where all the houses are made entirely of wood (almost).
Get ready to explore this incredible city, and book your tour today.
Want to make sure you get to see and discover as much as possible while visiting Gothenburg? Then you need the Gothenburg Pass!
With the pass, you basically get a sightseeing city card that allows you to experience everything Gothenburg has to offer. In addition, you will save money at the same time.
All customers with the Gothenburg Pass gets free entry to over 30 top attractions, activities, and museums in Gothenburg.
However, that is not all. The pass also includes unlimited tours on the hop-on and hop-off buses. In that way, you can easily get around in the city to all the sites.
The Gothenburg gives you free admission to the following activities:
Sightseeing and excursions:
The Paddan Tour, Paddan on Säveån, Paddan Christmas Tour, Hop On-Hop Off bus, Bus sightseeing, Hop On-Hop Off by boat, Archipelago Tour with a guide, Guided boat tour to Vinga, and Tour of Hisingen.
Culture and history:
Aeroseum, Alfie Atkins Cultural Centre, Bohus Fortress, The greenhouses of Botanical Garden, Tasting at Gothenburg's Chocolate & Candy Factory, -Gothenburg Sports Museum, Gothenburg Tramway Museum, Gunnebo House, Götheborgsutkiken lookout, Maritiman - a floating ship museum, Museum of Gothenburg, Ringlinien Heritage Tram, -The East Indiaman Götheborg, and Volvo Museum.
Art and architecture:
Hasselblad Center, Röda Sten Konsthall, the Gothenburg Museum of Art, and the Röhsska Museum.
Leisure activities:
JumpYard, Casino Cosmopol, Laserdome, Liseberg, Prison Island, Slottsskogen adventure golf, and Universeum Science Centre.
The Gothenburg Pass is available in four durations. Choose between 1, 2, 3, or 5 days for children between 0-15 years and adults over 16 years.
Moreover, you will also receive a free guidebook when you purchase the pass. This book is packed with useful information and details on where to use your pass and how to make the most of it.
Gothenburg: 3-Hour Private photography tour
This tour is pretty unique and definitely not something, you come across on all your holidays. With this tour, you get to explore Gothenburg with a private, professional photographer at hand.
Your private tour guide will take you to some of the best photographic locations in the city while at the same time visiting some of the main sightseeing locations. This will definitely be an inspiring tour around the city.
One of the main advantages of this private group is that the tempo will be slower and you will have more time for questions during the tour. You will have 3 hours with your professional photographer that will guide you through the city. You will also learn about exposure, composition, how to find the best motives and different kinds of camera techniques.
You will be able to take beautiful and unique pictures of Gothenburg, like the ones you see on postcards. Upon your return, compare images and photography settings you have used to capture your images.
If you are traveling in a group or with your family you can all join the private photo tour.
Gothenburg: Hop-On Hop-Off 24-Hour Sightseeing Boat
Gothenburg is a harbor city, so what better way to discover this port than from the waterside? With this Hop-On and Hop-Off 24-hour sightseeing boat pass, you get to do just that!
You can board the hop-on and hop-off boat in the center of Gothenburg city at Kungsportsplatsen. During the boat ride, you can stop and get off to see some of Gothenburg's top destinations.
.
On the boat, there will be an expert guide that will tell you about events and the shopping opportunities in the city center. You will also hear about the classic Haga district and the port of Gothenburg including some of its highlights.
The boat stops at:
Kungsportsplatsen/Stora Teatern
Brunnparken/Lejontrappan
Lilla Bommen
Eriksberg
Haga/Feskekôrka
The ticket is valid for 24 hours, so you have plenty of time to explore all 5 stops. You can also choose to just stay on the boat and have a relaxing time on the water while enjoying the stunning views of the city from the waterside.
UNBEATABLE VALUE CAR RENTAL

FREE
Amendments,
FREE
Cancellations,
NO
card fees!

airport_shuttle Need Airport Transfers?
Useful Information about Gothenburg Airport